Becoming a yoga instructor requires a strong foundation in both the physical practice and the philosophy behind it. With the growing popularity of yoga, there is no shortage of yoga instructor training courses and workshops available. However, it can be challenging to find the right one for you. To help you make the best decision, we have curated a list of top yoga instructor training courses and workshops you should consider.
YogaWorks Teacher Training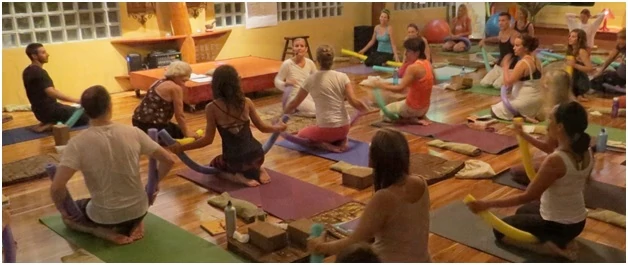 YogaWorks is a well-known name in the yoga community, offering comprehensive teacher training programs that are Yoga Alliance certified. With over 30 years of experience in training yoga instructors, their curriculum focuses on a strong foundation in asana practice, anatomy, and yoga philosophy. YogaWorks offers training programs in different formats, such as immersive, hybrid, and online options, making it accessible for aspiring yoga teachers worldwide.
Marianne Wells Yoga Retreat
The Marianne Wells Yoga Retreat is an excellent option if you're looking for a holistic, immersive experience. This 200-hour Yoga Alliance-certified program takes place in the beautiful and serene setting of Costa Rica. The training not only covers traditional Hatha and Vinyasa yoga styles but also delves into the spiritual aspects of yoga, such as meditation and pranayama. Marianne Wells, the founder, has over 40 years of experience in yoga and is dedicated to helping her students gain a deep understanding of the practice.
Kripalu Center For Yoga & Health
As one of the largest and most respected yoga and holistic health centers in North America, Kripalu offers a 200-hour yoga teacher training program that emphasizes the connection between mind, body, and spirit. Their curriculum incorporates the study of asana, pranayama, meditation, and yogic philosophy. Kripalu's approach to yoga focuses on self-awareness, personal growth, and transformation, making it a unique and powerful choice for aspiring yoga instructors.
CorePower Yoga Teacher Training
CorePower Yoga is a popular yoga studio chain known for its dynamic and challenging classes. Their teacher training program is designed for those who wish to teach a more vigorous and fitness-based style of yoga. The 200-hour program covers Anatomy, Alignment, Vinyasa, and Power Yoga, as well as teaching methodology and practical experience. CorePower Yoga offers both in-person and online training options.
Integral Yoga Teacher Training
Founded by Swami Satchidananda, Integral Yoga is a traditional practice that aims to integrate body, mind, and spirit. Their 200-hour teacher training program covers Hatha Yoga, meditation, pranayama, yogic philosophy, and a comprehensive understanding of the human body. Integral Yoga also offers specialized training in areas such as prenatal yoga, children's yoga, and yoga for stress management.
In conclusion, choosing the right yoga instructor training course or workshop depends on your personal goals, preferred teaching style, and the type of yoga practice you wish to share with others. The programs mentioned above are just a few of the many reputable options available to you. Take the time to research and reflect on what best aligns with your passion for yoga and your desired teaching path.